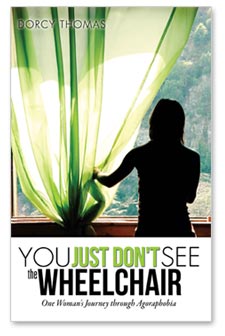 You Just Don't See The Wheelchair
One Woman's Journey through Agoraphobia
Phobias can feel bigger than life. They can suffocate the person struggling, but Dorcy Thomas's new book, You Just Don't See the Wheelchair, offers advice to readers, which will help them overcome their phobias and go on leading a normal and healthy life. This purpose of this book is to provide hope and help for others suffering from phobias, anxiety and panic attacks. Thomas's prayer is for her readers to find the help they need and the hope that things will get better.
"I have come from being totally housebound to freedom. I know the feeling you experience when fear overcomes you. I am free and you can be also. If this book helps just one person, it has been worth the effort," states the author. "I want this book to help the reader overcome their fears and be able to live a normal healthy life."