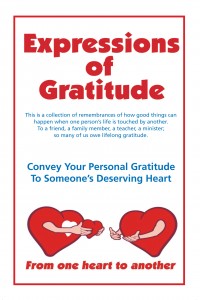 In the pages of this book you will be encouraged to remember those special people that believed in you and made a positive contribution to your life. This book is a collection of the  37  letters that I have written to the people in my life that deserve them. You can read my letters and use them as an example for the people in your life who were role models in love, discipline, faith, and character. You owe them a letter letting them know how much you appreciate them and why. Your personal letter will be  a blessing to them.  Submit a copy of your letter to The Expressions of Gratitude Project to possibly be chosen to appear in a future publication.
The Expressions of Gratitude Project
P.O. Box 1325
Medford, Oregon  97501
Some people will never know how much of an impact they had on your life unless you tell them!  Send them a letter expressing your gratitude.
To view a powerful interview with Tom Urby about this project, please click here.