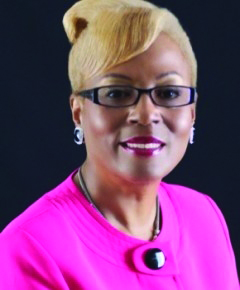 Out of chaos, racism and deprivation a child walks with God and emerges a vibrant, caring and accomplished woman.  As an author, public speaker and community leader, overcoming the legacy of the past and becoming a willing servant to the Lord is Richelle Rodgers's greatest accomplishment.  Richelle has overcome the legacy of a childhood filled with violence and poverty to become a willing servant to the Lord
Richelle Rodgers, author of Forever Growing—a Journey of Trust is a respected professional in the museum, insurance and franchising industries.  Richelle's expertise has increased the effectiveness of the following organizations and businesses:  Pennsylvania Department of Public Welfare, PHICO Medical Malpractice Insurance Company, Pennsylvania National Insurance Company, Boabab Culture Center, Rochester Museum and Science Center.  As Collections Manager with the Pennsylvania State Museum she was entrusted with the management of 2 million plus artifacts in Harrisburg, and in 17 historical sites throughout Pennsylvania.
Richelle Rodgers served as Executive Director of President William J. Clinton's Birthplace Foundation in Hope Arkansas. She facilitated the development of a Strategic Plan with the Board of Directors and managed the overall operations and marketing for the foundation.
Richelle worked as a Museum Registrar Consultant for the world renowned Barnes Foundation in Merion, PA.  The Barnes Foundation is an American educational art and horticultural institution.  Today the foundation possesses more than 9,000 objects, including 1300 paintings.  A sampling of the Barnes painting collection includes 181 Renoirs, 69 Cézannes, 59 Matisse, 46 Picasso and 7 Van Gogh.
She is a U.S. Army veteran whose professional accomplishments have benefitted numerous community organizations and are testimony to her skills and talents.  The outward accomplishments are only part of the story.  Richelle's relationship with the Lord and commitment to service to him is the foundation of her life story.  Surviving a childhood where a terrible act of violence penetrated family life, where poverty and racism could have drowned her, Richelle grew in strength and overcame all obstacles to emerge victorious and a dedicated servant to the Lord.
Richelle Rodgers book, Forever Growing—a Journey of Trust is an inspiring testimony to how a relationship with the Lord will guide you through overwhelming events into a life of achievement and fulfillment.
Richelle's story is a living testimony of how her faith has guided her to emerge victorious and will give a voice to those who are overwhelmed by despair and anger.  Her inspirational writing and speaking will encourage those:  changing their business or career; reinventing themselves, forced to start over or dealing with illness, domestic violence or hard times.  Hope springs eternal in both Richelle's writing and speaking as one who doesn't just talk the talk but has walked the walk.  For anyone who is experiencing upheaval or uncertainty, Richelle's Forever Growing– a Journey of Trust will inspire you to know that you can:  "Let Go and Let God!
.