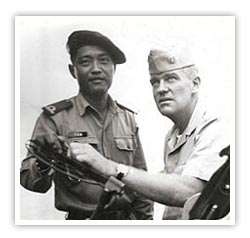 A Maine Maritime Academy graduate, Hoch found himself in charge of a fleet of Vietnamese junks manned by natives who adored him. Although he did not understand Vietnamese and they did not understand English, they quickly formed a bond of trust. Noting the extreme impoverishment of the people and their hopelessness of attitude, Hoch began a psychological war against the enemy by helping to attend the natives' general welfare. This book reveals the incredible power of faith in his life, and will resonate with readers from all walks of life.
What others have said…
"And so it begins, a detailed narrative laid bare . . . chicken feet and heads floating in soup, disturbing dreams of firing squads, octopus and beetle bugs piled on counters, hoards of vampire mosquitoes, pet puppies most villagers wanted to eat, 'sticky gobs of sweets on banana leaves,' and everything covered with flies.
Black pajamas and barefoot, unique and unorthodox, Hoch dazzled the Vietnamese as well as his superior officers. . . Hoch emerged a true hero, no small feat compared to what later Vietnam vets went through when they returned home."
''Make Me Whole Dai Uy' – A Search for the Man in North End's Wes Hoch
by Andy Rusnak – Editor, Composites Fabrication magazine (May and June 2000 issues)
"If the men catch no fish on their long sea journeys, he goes hungry with them; if the mosquitoes are biting, he is fair game. If the area is dangerous, he shares in the danger.
"He is a strange mixture of soldier, sailor, dentist, mechanic, linguist (he speaks a fractured Vietnamese), doctor and teacher. He claims to have no special proficiency in any of these things, but maintains that anything that one can do as an amateur is better than sitting around doing nothing at all."
A Legend In Remote Seas – Maine Navy Lieutenant Leads Viet Junks
– Article in the Boston Sunday Globe dated October 20, 1963 by Orville Schell