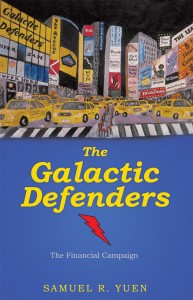 In his new book, The Galactic Defenders: The Financial Campaign, Samuel R. Yuen teaches young readers about how to use discernment with regard to spending money. The author targets his book at kids and teenagers, specifically, so that "…when they are adults they will be wise consumers who avoid the traps of debt, spend cautiously, and give to God and others." The author's concepts are the underlying theme of a remarkable adventure story.
"[The most important thing to state is] that kids are never too young to learn the basics on how to spend, save and give wisely," states the author. "That God's Word is the foundation for that. All we need is someone to show us. Who better to do that than a kid teaching other kids what he has learned?"
Of his expertise, the author expresses "I have been writing stories since I was seven years old.  I first learned about God's way of using money in Kindergarten, from my mom who taught me from a kid's biblical finance workbook. I wrote my first book when I was ten and self-published it when I was eleven. I was asked to speak at my church about my financial book. I sold many copies that day. I was also invited by a Messianic Jewish congregation to teach the kids in their Shabbat class about finances. Recently I was invited to teach kids at an Arab American Fellowship."
Samuel R. Yuen is inspiring readers, both young and old, to think before they spend.  He has cleverly fused superheroes and finances in an adventure that shows kids they are never too young to learn how to save, spend wisely, and give to God and others.
Highly recommended is Samuel R. Yuen's first published book, Kids Financial Study, which was the winner of  the 2013 Christian Choice Book Award, in the catagory of Finances. It is available when you select Purchase Now under the Buy Now tab on this website.