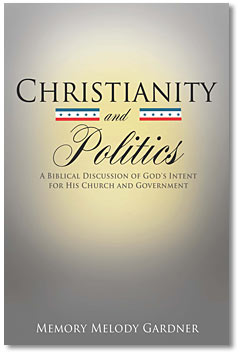 Memory Melody Gardner's new book, Christianity and Politics, was penned to help Christians gain a much bigger picture of God and His perspective on politics.
What can you expect?
Expect to be enlightened by how God's people and the political systems of the world converged.  Expect for the most controversial and divisive issues in the 2012 Presidential Election cycle among Christians and others to be addressed head on. Expect to be challenged by how God defines morality and how His definition should effect the way we vote and even discuss these divisive issues. Expect to be encouraged to find constructive ways to have conversations around these topics that end much better than you expected.
The politically charged issues on the 24-hour news cycle:
Same Sex Marriage
Life & Abortion
Morality & "the least of these"
Health Care Reform
Where do you stand?
This book expounds on the importance of having clear distinctions between the Church and government and what the different roles of the Church and government are. Memory Melody Gardner explains furthermore what the Church's response should be to modern-day, politically charged issues.
"God never intended for His people to be ruled by worldly governments even like our Democracy; He wanted to be our King," says Ms. Gardner. "But we insisted in 1 Samuel 8 that God step aside and allow us to be ruled by an earthly king. And now we are in a mess that will only be fixed when Jesus comes back for us. Instead of allowing a political system God did not create or sanctify divide us, let us politic from biblical conviction and insight, versus loyalty to this world's systems."
 Christianity and Politics is a quick, but challenging read to gain understanding and perspective for your most politically charged conversations! Buy your copy today!