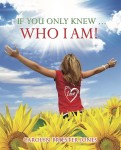 If You Only Knew … Who I AM! is a thought provoking book in which, Carolyn Priester Jones, the author, uses scripture from throughout the Bible to demonstrate God's Consistent Message of Love for all He created.  God's Great Love has continued from the beginnings of Time to the present and will continue forever.
God's Love is personal.  God's Love is unlimited.  God excludes no one from His Love or His Presence.
"God has been with you from the beginning of your life, is now and ever shall be," states the author. "He lives inside of you, not by your choice, but by His.  The Joy in Life comes when you discover He is there!
He is waiting to tell you things you may never have known about Him.  Once you know Who He is, you will then know who you are and you will know why you are here."
Call to Me, and I will answer you.
I will tell you great and mysterious things
that you do not know.
Jeremiah 33:3