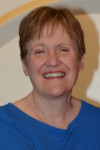 Carolyn Priester Jones has been a writer for most of her life. From writing stories in childhood to writing award winning plays as a teenager, she found joy in verbal creative expression.
She combined writing with a nursing career and published in a variety of professional journals. Additionally, she published Sunday school lessons and devotionals electronically.
She is a teacher, writer, blogger, and music composer. She describes her greatest joy as "being in communion with her Creator, sitting on His Lap, and seeing the world through His Eyes."
It was from His Lap that Carolyn rediscovered The Joy in the Celebration of Christmas. Her book, Christmas of Discovery, has become a joyous part of advent celebrations around the world.  Each chapter invites the reader to reflect personally and to journal their conversations with God.
In 2015, Carolyn wrote her latest book, If You Only Knew … Who I AM!  It is a thought provoking book, using Scripture from throughout the Bible to demonstrate God's Consistent Message of Love for all He created.  God's Love is personal, unlimited, and forever present, living inside every one of His Creations.  Carolyn says, "You don't have to invite Him in.  He is already there, not by your choice, but by His.  The Joy in Life begins when you discover He is there!"
If you would like to visit Carolyn's blog site click here.
Carolyn shares Teachings and Music from The Heart of God on her YouTube Channel and GodTube Channel.  Each teaching is entertaining, focused and practical with "News You Can Use" in your day to day life.