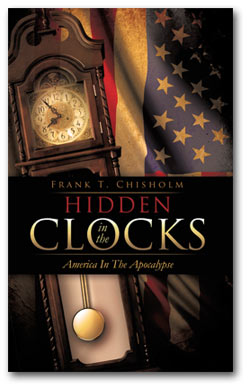 HIDDEN IN THE CLOCKS: America In The Apocalypse
(To hear Frank read the book's intro, go to bottom of page)
As noted in his earlier book KEYS TO THE APOCALYPSE… Frank Chisholm, of Maranatha Ministries, is the son of a former technical assistant to the Apollo moon mission  which landed successfully on the moon in the late 1960's.  From those glory days of remembering America  as a White Hat super power  he suffered a personal setback and jolt to his psyche when taking a dive into cultural atheism in his teens, as well as a recovery, before entering the Service.  With his newly revived faith on trial in the US military (Navy) he was to receive, to no small degree, a healthy respect for the concept of Christian persecution—and become  more open to what, now appears to him, are key issues pointing to an event known as "the great tribulation."  This only increases the irony of how that earlier book ended with a challenge for our nation to find new (even renewable) sources of oil production (in 2006).  Today . . . we are facing a world with a glut of oil established because of a new fracking adventure, embarked upon by American enterprise–which Middle Eastern oil barons wish to quash.
Will the US be able to make use of this new resource—not only to solve the energy crisis . . . but also to find new leverage that will cure our middle eastern diplomatic crisis as well?  Current events certainly make this viable resource  a reason for serious contemplation.
Book Introduction
Today's continuing urgency obviates a need to better understand this powerhouse prophecy contained in John's Revelation.  —All the more, within our current climate,  when considering the possibility of understanding a key time piece earlier discovered within its pages. How does this key player within John's Revelation; a mysterious set of "3½ clocks" lodged in the very middle of the prophecy, promise to play out in our end time scenario?  To give a preview to the answer,  Frank  has provided  a short reading of  his book's introduction (click below).  Or, you may simply prefer to plunge in by reading the 1st chapter and 2nd chapter intro (whose second chapter title, involving God's "Plan B," may seem unusual to some)…
As Brother Chisholm often puts it: Let us be ready!
Maranatha. Behold, He is coming!