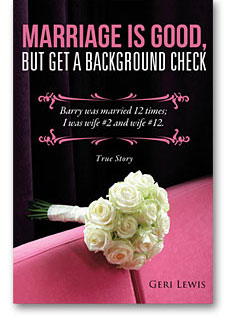 Geri Lewis' new book, Marriage Is Good, But Get A Background Check, is a true story based on the author's experiences. Within the pages of this book, readers will find out what real deception looks like. Lewis illustrates the importance of relationships and how lives can be ruined as a result of bad choices.
"It is my desire that my readers will use my experience as an eye opener as to how far a man will go to abuse his mate in order to get his own needs met," states the author. "It is my hope that my readers will understand that they do not have to go along just to get along with their spouse. If your nature is characterized as being good to your mate, do not let them control or use you up. You do not have to buy love, it is free!!!"
Geri Lewis was educated in the public schools in Georgia and has a degree in Criminal Justice. The author states that she has always been one that could express thoughts and opinions on any given subject; because of interest in discovering the unknown. She also credits her sister, who taught English and has been an educator for over 30 years in the local school system, for her role and contribution to this book.