GOD'S HOUSE! BEAUTIFUL! LET'S GO!
Book Offers Glimpse into Heaven, Hope for the Bereaved
Healing and renewed purpose can be found through God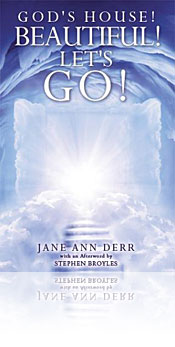 With her husband's passionate last words ringing in her ears, author Jane Ann Derr found the strength to go on and make sense of the past. But answers didn't come immediately. After the funeral, when her young great-grandson asked, "Where's Papaw?" she answered, "He is in Heaven."  But his second question – "Where is Heaven?" – left Derr silent, bereft of answers. For five years she dug into Scripture, crying out to God for answers, and God responded with His amazing grace. In her new book, God's House! Beautiful! Let's Go! she shares those answers with anyone facing their own "dark night of the soul."
We all will one day walk through the valley of the shadow of death, and we will find God's help even there," says Derr. "Just as the angels helped Jesus in His passage, they will help us. And yet Jesus still had to walk that valley. He spent agonizing hours in prayer for the strength to go through His trials and death on the cross. That reminds us that we too need to prepare diligently and prayerfully, for the eventual destiny of all mankind. Our strength from God comes when we seek His help and guidance regularly before the emergency happens."
The title of this book is God's gift to all who need just a peer through the curtain as one reader described it.  Although Christian are meant to live by faith and not by sight, Derr's husband's description of his final vision – "God's House! Beautiful! Let's Go!" – is compelling evidence that heaven truly exists; just the way Jesus described it. Those facing bereavement or other devastating losses will find comfort, healing and wisdom within the pages of this book.
Testimonials
Please check out our testimonials page to see what others are saying about God's House! Beautiful! Let's Go!