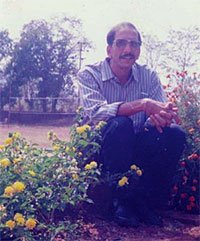 Joaozinho da S. F. A. Martins, a native of Orlim, Salcete, Goa, India has no theological laurels to his credit. His maiden research into the subject of Biblical  Creation has been mainly stimulated by an Article captioned: "Creation and Evolution" that appeared in the March-April 2009 issue of Christian Odyssey, a bi-monthly denominational magazine published by Grace Communion International, USA. [www.gci.org]
Biblical Creation Truth, as such, is the product of his tentative research.
"Biblical Creation Truth highlights or focuses on the Three Phases or Epochs of Creation based on the creation accounts in the Bible. This has been, all along, remained unaddressed by the Creationists or Theologians concerned", states the Author. Moreover, the controversial  Gap Theory is convincingly replaced by him with "Biblical Gap Theology" — a novel theological term coined by the Author to account for "pre-historical, pre-Adamic life on earth" as is revealed in the Holy Scriptures and, in a way, as substantiated by the geological fossil evidence found in the "Book of Stone".
The Author claims no scholarly-academic expertise or authority relating to Scriptural Creationism. He states: "Frankly speaking, what is required in expounding biblical truth revealed in the Scriptures is absolute guidance and discerning spiritual enlightenment from the Above more than any special scholastic or academic expertise. The material in the book is based upon Biblical Revelation which is Authoritative in itself." At the same time, Martins is quick to admit that human understanding and interpretation of the Holy Scriptures is bound to be biased if one is not on guard, prayerfully; as such, he says he is open to "correction based upon unbiased, constructive, biblically-appropriate and reliable feedback." =============================================================================================== +++++ DIVINE LIFE COMMUNION +++++++++++ LET HIM/HER that is ATHIRST COME +++      +++ And Whosoever Will Let HIM Take the WATER of LIFE Freely – Revelation 22:17 +++              
CLICK to READ:> GOD'S SIMPLE PLAN FOR SALVATION!
READ About CREATION and MAN'S NEW CREATION in CHRIST 
ARE YOU GROPING in the DARKNESS?   WHAT Are YOU then SEEKING FOR in LIFE?
The True Answer is Not in You! Click Here for a BIBLICAL ANSWER to What You Seek For in Life!
Well, YOU have a DATE with DESTINY!  SEARCH the HOLY BIBLE Here for the Right ANSWERS  to LIFE'S PUZZLING QUESTIONS, and for GUIDANCE in Pursuing YOUR LIFE'S TRUE DESTINY!
"God Who Commanded the LIGHT to Shine out of DARKNESS, hath Shined in Our Hearts, to Give the LIGHT of the KNOWLEDGE of the Glory of God in the Face of Jesus Christ" — 2 Corinthians 4:6
"But if our Gospel be Hid, it is hid to Them that are Lost: In whom the god of this world hath blinded the minds of them which believe not, lest the LIGHT of the Glorious Gospel of Christ, who is the Image of God, should SHINE unto Them"— 2 Corinthians 4:4
MOVE AWAY from the SPIRITUAL DARKNESS into GOD'S MARVELOUS LIGHT ……………… BE a NEW CREATION in CHRIST!
HERE's HOW…. CLICK On Each of the LINKS Below to KNOW What YOU Need to DO to MOVE OUT of the SPIRITUAL DARKNESS into the LIGHT of the Gospel, and Be a NEW CREATION in CHRIST.…
[1] ACKNOWLEDGE that YOU are LIVING in SPIRITUAL DARKNESS  and ADMIT that YOU CANNOT SAVE YOURSELF!
[2] HOW Then CAN ONE BE SAVED?     
[3] WHAT Does It MEAN to Be BORN AGAIN? 
[4] KNOW YOUR LORD and YOUR SAVIOR!
[5] ACCEPT GOD's INVITATION to RECEIVE FORGIVENESS of SINS  and
[6] JOYFULLY SURRENDER ALL TO GOD and RECEIVE HEAVENLY RICHES!
[7] READ the HOLY BIBLE – GOD'S WORD, DAILY! 
[8] WHEN in TROUBLE, COUNT YOUR BLESSINGS and SING for GOD's GLORY!
[9] KEEP CLEAN and NURTURE Your HEART's GARDEN  and PRAISE GOD in the Midst of LIFE's PROBLEMS, DIFFICULTIES and STRUGGLES!
[10] SEARCH Here: GOD Has a POSITIVE ANSWER to ALL OF YOUR PROBLEMS!   
[11] IN ALL YOUR EMERGENCIES LOOK for the YELLOW Pages Here and PRAY  and
[12] LOVE the PEOPLE WHO COME IN YOUR LIFE for a PURPOSE, and SERVE THEM!
Click Here to GROW Spiritually and ENRICH Your FAMILY LIFE
PRAY for this SITE, and SHARE IT  With OTHERS, ONLINE;  And With Godly People Power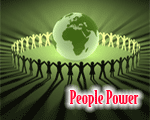 REACH OUT, GLOBALLY, with the GOSPEL MESSAGE! THANKS!